Meet Our Team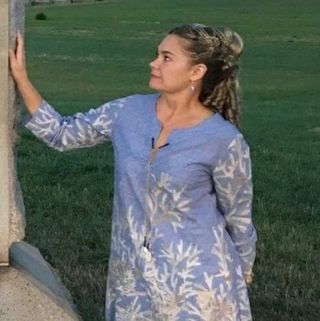 Dr. Holly Ray
DVM
Dr. Ray earned her B.S. in Biology from Dickinson College, Carlisle, PA. During the following five years, she lived in Dublin, Ireland, where she completed her veterinary degree at University College Dublin. After returning home, she became owner of Champion Animal Hospital in 1999. She is proud of the hospital achieving AAHA accreditation status in 2016. Outside of the office, she shares her life with her show her horses. She is also obsessed with the history of the American Civil War. She frequently spends time in Gettysburg and enjoys being a docent at Daniel Lady Farm, as well as giving talks and sidesaddle demonstrations. Other interests include scuba diving, landscaping, target shooting and sewing. Dr. Ray shares her life with several dogs, 4 cats, 2 birds, 1 rabbit and 3 horses.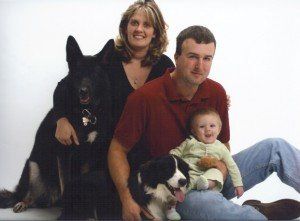 Dr. Toni Janosko
DVM
Dr. Toni graduated from Westminster College in 1999 with a double major in environmental science and biology, with honors. At Westminster, she fell in love with 2 things: veterinary medicine and horses. After graduating from The Ohio State University College of Veterinary Medicine in 2003, Dr. Toni practiced equine medicine in Trumbull County. Since then she has treated the largest horses down to the smallest kittens, and everything in between. Dr. Toni lives in Warren with her husband, Garry, and her son, Carter. Completing the family are Skye, an Australian Shepard with whom she participates in agility, her rescue German Shepherd Bear, and their anything-but-normal Border collie, Cassie—along with their 3 cats and 700 cows. Although their farm is currently without a horse, the family enjoys showing and breeding dairy cattle. You will most often find the family enjoying swim meets or soccer games together at a local field.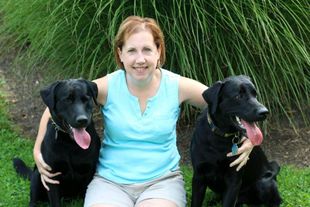 Michele
Veterinary Technician
After receiving her degree from Morehead State University, Michele has worked as a Registered Veterinary Technician at Champion Animal Hospital since 1988. She is married and has 2 children. She has been a mom to many pets over the years, and currently has an adorable kitty named Tiga. She is also grandma to her children's dogs and cats. In her spare time she enjoys spending time with family and friends, scrapbooking, cooking, and baking.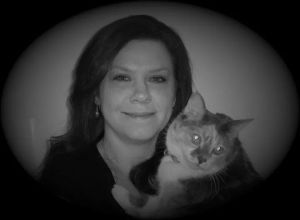 Nicole
Veterinary Technician
Nicole has been with Champion Animal Hospital since 1998. She received her degree in Veterinary Technology from Cedar Valley College. Nicole attends many veterinary conferences and continuing education classes to further advance her knowledge and skills within veterinary medicine, as well as keeping up to date with the most current advances available. When not working she enjoys spending time with her family, which include 3 Shi Tzus: Lucas, Chloe and Gabby, 4 cats: Gargamel, Cashmere, Jade and Posie and her 2 turtles.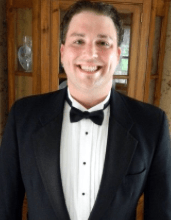 Justin
Veterinary Assistant
Justin received his Bachelor's degree, Summa Cum Laude, from Baldwin–Wallace University in 2000. Justin has enjoyed working as a Veterinary Assistant for Champion Animal Hospital since 2011. His free time consists of singing and musical-directing with local performing theatre companies and ensembles. He loves going to the movies with friends, and spending time with his family and beloved dogs.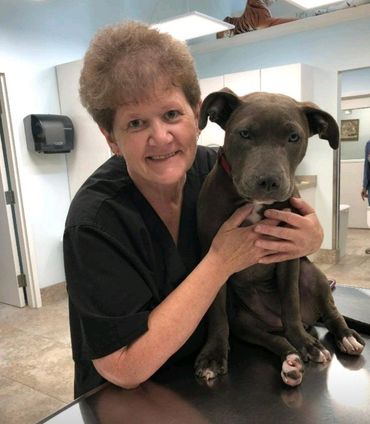 Elaine
Veterinary Assistant
Elaine has been working in the veterinary profession for over 15 years. . Elaine is Champion Animal Hospital's all-round employee, doing a bit of everything and anything. Away from work, she spends time with her Pit Bulls, Atticus and Jolene. She also has 4 cats and numerous chickens, all who definitely keep her busy. She also enjoys listening to record albums, watching old movies, going to flea markets, and working outdoors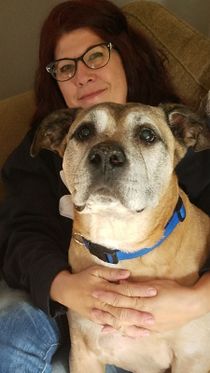 Natalie
Office Manager
Natalie, a California native, has been working with animals for as long as she can remember. She has found her forever home with Champion Animal Hospital. Natalie shares her life with her adult children, her very active grandchildren and her dog Deuce, a Bull Mastiff/Pit Bull mix.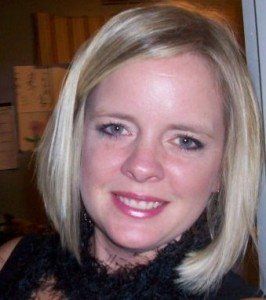 Wendy
Receptionist
Wendy has been a part of the Champion Animal Hospital team since 2008, working as a receptionist. She is a 1996 graduate of Kent State University. Wendy and Bo, her husband of 22 years, live in Niles with their 2 children. Wendy has always had an interest in fitness. She enjoys running and traveling. Wendy's family also includes 3 beautiful Siamese-mix cats: Sushi, Maui, and Bonzai.